What Does the Recruitment Process Look Like?
Tuesday, January 26, 2016 - 13:47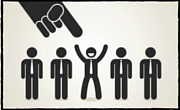 In today's day and age, there are many ways to go about finding candidates to fill open positions. Most companies prefer to hire professional recruiters to help them find exactly the right candidate because it allows them to spend time on issues that are more relevant to their field. In addition, they assume that professional recruiters will be much more effective in seeking out highly qualified candidates. However, this is not always the case. The process used to find candidates for a company may differ depending on each recruiter you come across.
There are three main ways to go about looking for candidates: job boards, word of mouth, and calling competitors to get in contact with candidates who are already working and therefore have the skill set your company is looking for. These three methods have remained constant for many years. Though job boards that used to be found in the newspaper are now primarily on the internet, the concept remains the same. Though it's nice to have more than one method at your disposal, wouldn't it be useful to know which one is most effective?
Job boards are the easiest way to identify candidates, which explains why many professional recruiters use them. However, job boards are a bit more complicated than one might expect. This is why, even though it may be tempting for companies to use job boards as their sole method of finding candidates, professional recruiters are still very valuable. Using only job boards to find candidates often yields very poor results. The main problem with this recruitment process is that it is completely passive. After posting a job description, all that's left to do is wait and hope someone responds. If people do respond, it is not uncommon for them to be unqualified for the position. Unfortunately, this discovery is made only after the recruiter has spent a lot of time sifting through the responses, making calls, and conducting interviews. This wastes a lot of precious time. After all, if a company has chosen to hire a professional recruiter, it is reasonable to assume that they have an opening that needs to be filled immediately.
Word of mouth recruiting usually yields high-quality candidates. It is unlikely for someone to recommend a candidate to fill a position if they do not have a solid understanding of the person's skills and abilities. However, relying solely on word of mouth has its downfalls. Depending on the type of position you are trying to fill, it may be difficult to find someone who can recommend a good candidate.
The final method that can be used in the recruitment process involves calling companies (many of whom may be your direct competition) and speaking directly to potential candidates who likely already have the skill set that you are looking for. Most recruiters are very reluctant to use this method because it appears to be the most time-consuming. However, it is important to remember that what counts is not the number of candidates that are gathered in a certain period of time, but the quality of those candidates. While you may not find as many potential candidates, seeking out candidates that you already know are qualified is very effective in finding you the right candidate to fill your position because the ones you do find are much more likely to be the right fit. This is the oldest method that can be used in the recruitment process and it remains the most effective.
If you would like more information on the recruitment process or would like to find out if Anderson Sterling is the right recruiting company for you, feel free to call Victor Goodman at (310) 459-8100 or email him at vgoodman@andersonsterling.com.
Testimonial
"Anderson Sterling Associates is not only the most competent search firm I have worked with, but their unique business model is more cost effective and time saving than any recruiting company I know of."
CFO at Raytheon Space Systems