How to Choose the Right Recruiter For Your Company
Tuesday, January 12, 2016 - 14:32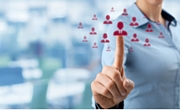 Anyone who is in a position to hire for their company knows that hiring the right person is critical. If you hire someone who turns out not to be the right fit, you end up in a worse position than when you started due to having to let that person go and start the process all over again. The same is true for hiring the right recruiter. The job of your recruiter is critical. If they conduct their search inefficiently, or if they really do not understand the kind of person you need, the search can go on forever. If your company is going to hire a recruiter, you need one who understands exactly what skills are necessary for the open position, the company culture, and even the personalities that will work well within the department. While these elements may seem minor, they are really part of the fundamental building blocks of any successful search. Let's explore how to choose the right recruiter for your specific needs.
Unfortunately, too many companies lose sight of what will work well in the long term in order to spend the least amount of money possible during the hiring process. You may have seen this in your own company. Often an HR generalist is tasked with recruiting in addition to their other work, which may not be their strong suit. Sometimes companies try to hire in-house recruiters - thinking they will save money by not using outside recruiters. After a while, they find that this does not work very well because their in-house recruiter cannot, of course, be a specialist in all the areas of recruiting that the company needs. Finally, companies hire outside recruiters who do specialize in a particular area, but try to pay them as little as possible for each search. This method is not usually very effective, as those recruiters end up spending the bulk of their time working for clients that are paying them a higher percentage per hire than the company who has negotiated a lower one. As you can see (and probably know from your own experience) this is quite a dilemma. So, how do you choose the right recruiter for your company?
As a former Human Resources Manager for a leading Aerospace company, my recommendation on how to choose the right recruiter is to hire an outside firm who specializes in the type of recruiting that you need. It is also important that your recruiter be capable of finding the best qualified candidates, doing the best screening, and presenting you with candidates you can hire as quickly as possible. Of course, cost is always a factor. How do you get the specialization and efficiency you need at a cost that will not break your budget? The answer to this may lie in the type of recruiting firm you hire.
Traditional contingency-based recruiting firms have built into their business model on a relationship with their clients that, in a way, pits them against each other. The clients that are paying the highest fees usually get the most attention from the recruiter because the recruiter can make more money when they make a placement. This of course also means that the clients that are paying a lower fee - something we all want to do if possible - are often not getting the attention they deserve; their hiring is usually done more slowly and less efficiently. There are retained search firms that charge part of their fee up front and the rest after they place a new staff member. This approach is supposed to signify the firm's guarantee that they will spend more time working on your search. Oftentimes this is effective, however it is also usually more expensive than the contingency approach.
A final approach to recruiting combines the guarantees of working on your search full time and keeping the cost of that search within your budget. This method has repeatedly proven to be very efficient in getting you the right person for your needs at a cost that is lower than either of the first two approaches. In order for this third option to work well, however, you still need to find a recruiting agency that specializes in your field.
Anderson Sterling Associates was an early pioneer in this third approach and has been successfully using it for over 25 years. Founded by a Human Resources Manager who needed to hire only the top talent in the industry quickly and efficiently, the idea of affordable yet efficient and effective recruiting was born. Visit the Anderson Sterling Associates website at www.andersonsterling.com or call Victor Goodman at (310) 459-8100 to see how this approach may be the one you have been looking for to finally get your recruiting done the way it should be. The question of how to choose the right recruiter has been answered. We look forward to hearing from you!
Testimonial
"Anderson Sterling Associates is not only the most competent search firm I have worked with, but their unique business model is more cost effective and time saving than any recruiting company I know of."
CFO at Raytheon Space Systems